Escuela Delengua: Your Spanish school in Spain
Escuela Delengua is a Spanish school for foreigners, accredited by Cervantes Institute, and center of the Siele exam situated in Granada, Andalusia, Spain. With almost 25 years of experience in teaching Spanish as a foreign language, we are proud about having students and friends who form the "family Delengua" in all over the world. It is important for us to see how students improve their language skills, to train new teachers and spread the love for the Spanish language and Spanish culture in Spain. Our main aim is to make the Delengua experience unforgettable in every aspect.
The language school building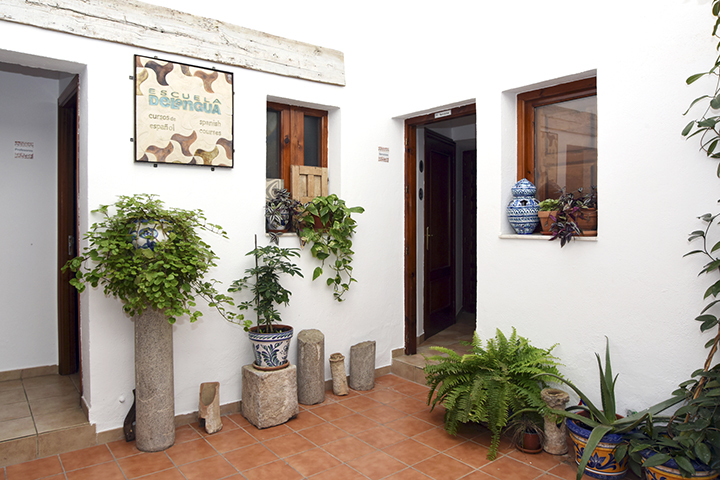 The historic building of the language school has been recently renovated, and there are three floors and a terrace with a panoramic view over the centre of Granada. On the 2nd and 3rd floors there are fully-equipped apartments with a kitchen (including a washing machine), a sitting room, a TV, bathrooms and bedrooms (free wireless Wi-Fi access is available all throughout the building). On the first floor there are four classrooms and on the ground floor there's the office and another three classrooms. There's also a patio where the students meet for their activities. The language school Delengua has everything you need to study Spanish in Granada.
Great experience in giving Spanish courses
Escuela Delengua was founded in 1997 and since then we have welcomed students from all over the world. The language school specialises in Spanish language and culture courses that run all year round. We are highly experienced in teaching Spanish language courses and will be more than happy to help your language improve!
There are only a few language schools located in the centre of Granada
As you can see from the map, the language school is located in the centre of Granada, in the beautiful Albayzín quarter. The language school is just 1 minute from Plaza Nueva and 5 minutes from the famous Alhambra and Calle Elvira.
Calle Elvira is full of bars and clubs and is only a short walk away. It is famous for its vibrant nightlife and you are sure to spend a few nights there, with your fellow students, during your stay in Granada.
Delengua is surrounded by many Arabic shops that sell a huge variety of interesting and unique items: you will never be short of things to do in Granada!
All you need to study Spanish can be found at Delengua:
A wide range of teaching materials for all levels.
Spanish books and films.
Television with video and DVD player.
Free Wi-Fi access all throughout the building.